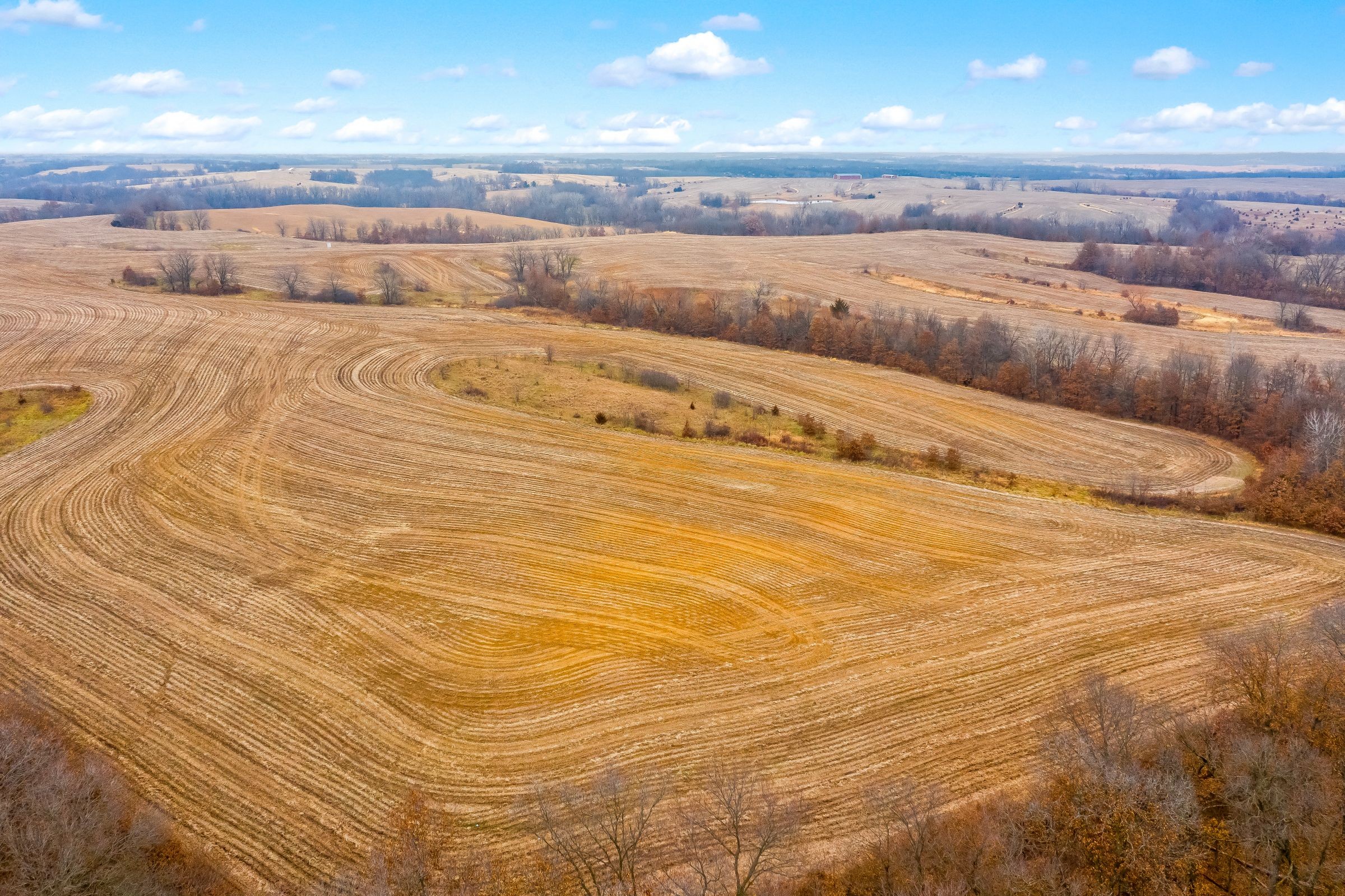 The state of Missouri is considered to be one of the most agriculturally diverse states across the Midwest. According to the Missouri Department of Agriculture, the state is ranked 10th in the country for corn production and 7th for soybean production. Additional crops grown across the state are wheat, cotton, and rice. Missouri ranks 5th among U.S. states for cotton production and 4th for rice production. In addition to these cash crops, many farms are also involved in livestock production. With the vast diversity of agricultural products produced across the state, land values can vary across different regions. These values can be somewhat difficult to track as Missouri does not require the disclosure of sales prices for real estate transactions.
The University of Missouri Extension conducts an annual online survey, which is sent to professionals in the agricultural real estate industry, as well as farmers across the state. The respondents were asked for their opinion of value for three classes of cropland – good, average, and poor, as well as irrigated cropland, recreational land, and pasture. The 2020 survey results for good quality cropland indicate a state average of $5,555 per acre, up 2% or $134 per acre from the previous year. Average quality cropland is $4,529 per acre and poor cropland is $3,588 per acre. In addition, the average value for irrigated cropland across the state was $6,335 for 2020. The graphic below shows the statewide average values as well as average values for each region.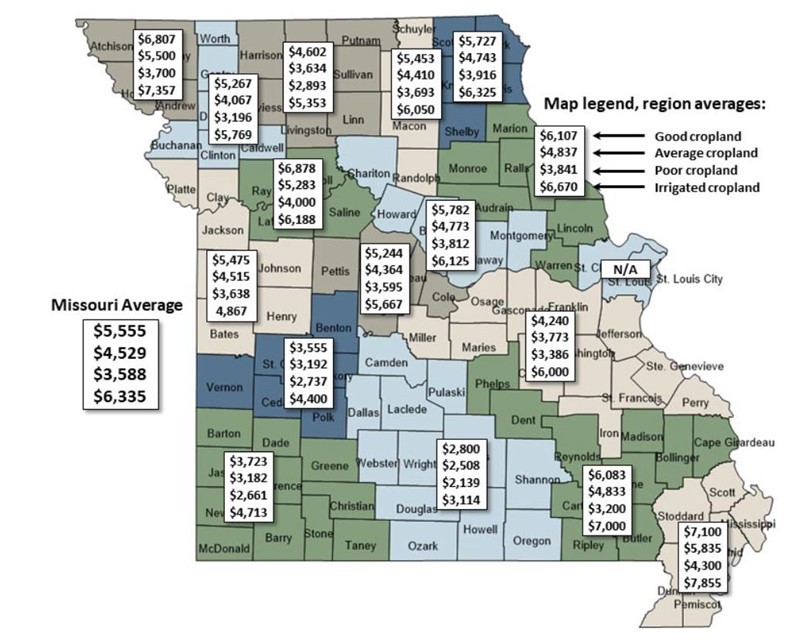 Pastureland was also classified as good, average, and poor quality for the survey. The results of the survey indicate the state average is $3,374 per acre for good quality, $2,833 per acre for average quality, and $2,326 per acre for poor quality. The average for good quality pastureland is up 6% or $200 per acre from the previous year. The average value for recreational land also showed an increase for 2020 at $2,834 per acre. The following graphic represents the state and region averages for pastureland.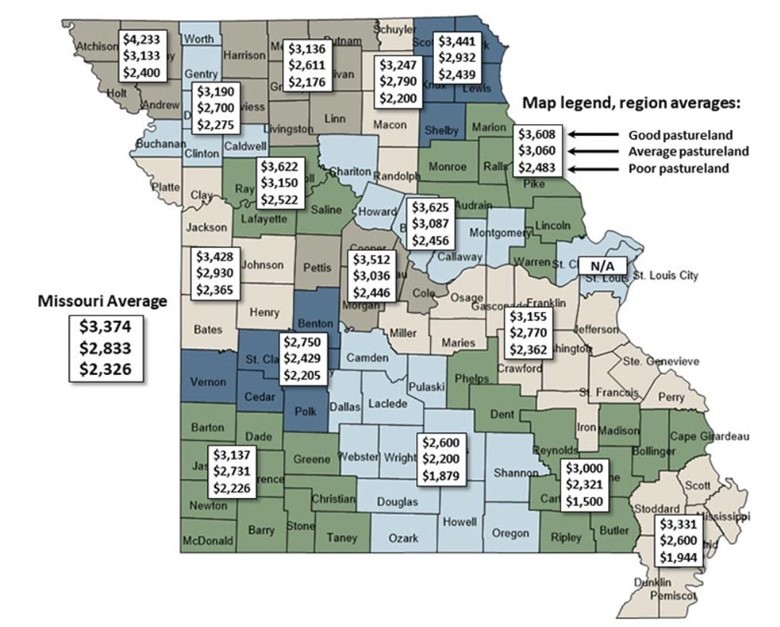 Survey respondents were also asked to give their opinion on who is purchasing land as well as factors affecting land values. The survey indicates that 60% of buyers were farmers, 25% were planning to lease the land for farming, and 12% were planning to use it for non – farming purposes. Main factors that are affecting land value are primarily low interest rates, which allow purchasers to pay more for land due to principal and interest payments still fitting into their cashflow. Additionally, respondents indicated increased purchases from the recreational sector also caused increases in land values. Historically, land has trended upward at a rate of 6% per year, which is seen in the graphic below.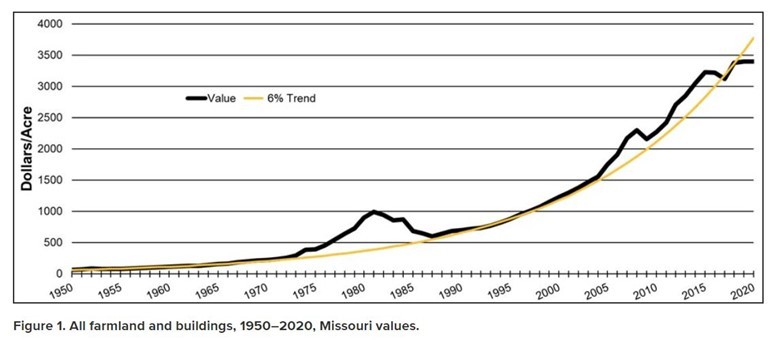 The information and graphics utilized in this article are from the University of Missouri Extension Survey, which can be found at https://extension.missouri.edu/publications/g401.
Peoples Company's certified and accredited appraisers specialize in the valuation of agricultural assets across the country.
To inquire about retaining professional appraisal services, contact Peoples Company at 855.800.5263 or email Appraisal@PeoplesCompany.com for additional information.