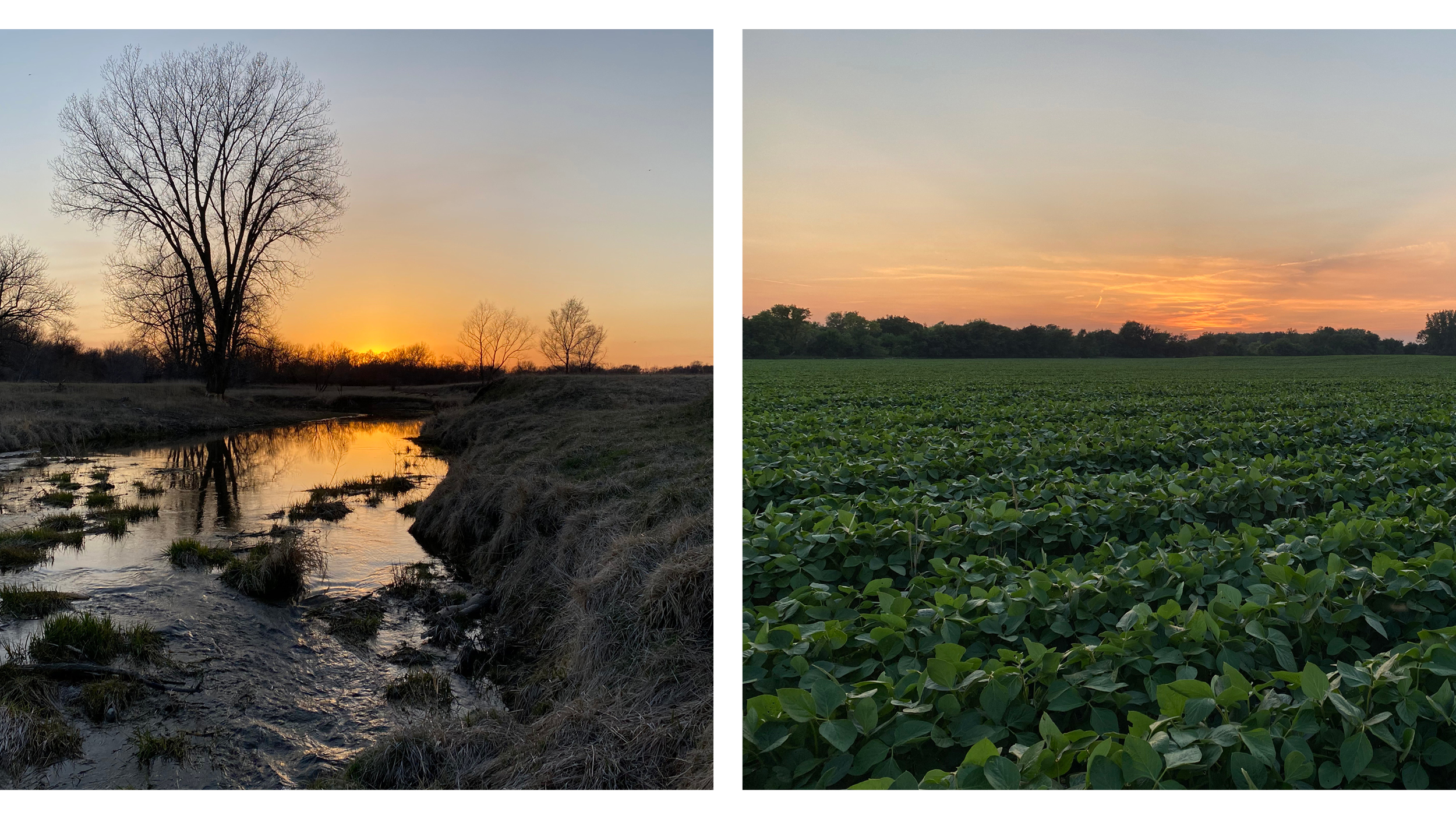 Peoples Company is proud to support the efforts of landowners, operators, and local organizations bringing new conservation practices onto the working landscape. And whenever possible, we want to help highlight these efforts for others to learn from.
On Saturday, June 18 there will be a field day open to the public on the Hunt Farm in Hardin County, Iowa. The Hunt Farm is a unique property located directly west of Eldora, Iowa. Beaver Creek runs through the property, creating a diverse landscape of certified wetlands, timber, pollinator habitat, pasture, and row crop acres. Field day attendees will see live installation construction of two bioreactors and a close-up look at multiple conservation practices used on the Hunt Farm to improve water quality.
The Hunt Farm is owned by Kathleen Hunt, an out-of-state landowner, and is farmed by local operator, Jacob Bolson. Kathleen and Jacob connected through Practical Farmers of Iowa Find a Farmer, an online matching program created to connect non-farming landowners and potential tenants. A Peoples Company Land Manager was hired to help with the boots on the groundwork that the landowner could not easily do herself living out of state.
Advocating for plant and wildlife diversity on the farm is important to Kathleen, as well as addressing the farm's impact on the larger watershed. With thoughtful conversation and collaboration, a broader plan was developed for the Hunt Farm that incorporates several conservation tools and funding sources. Using personal and public funding sources has helped Kathleen and Jacob maximize production on the most productive acres while also protecting the most environmentally sensitive acres.
The two bioreactors were funded by a grant awarded to Southfork Watershed Alliance from the Iowa Water Quality Initiative, a division of the Iowa Department of Agriculture and Land Stewardship.
The field day is open to the public and all are welcome.
WATER QUALITY FIELD DAY
MULTI-PRACTICE CONSERVATION AND BIOREACTOR INSTALLATION
Hardin County, Iowa
DATE
Saturday, June 18, 2022
8 to 9:00 AM Registration/Breakfast
9:00 AM to Noon Program
HOSTED BY
The Southfork Watershed Alliance
Landowner Kathleen Hunt
Local Operator Jacob Bolson
FREE BREAKFAST & LUNCH generously provided by field day sponsors.
FIELD DAY LOCATION
28989 Hwy 175 just west of Eldora, Iowa
Parking at Ag Advantage FS, located southeast of the farm. Shuttle will be provided to Field Day location.
REGISTRATION
Registration for meal count is appreciated by clicking HERE or by calling Jo at 515-290-9999.
WEATHER UPDATES
Due to the weather-dependent nature of the event, please make sure to check for updates at the Southfork Watershed Alliance website or Facebook page.
Landowners who are interested in learning more about possible improvements to their farm are encouraged to reach out to the Peoples Company Land Management Team at LandManagement@PeoplesCompany.