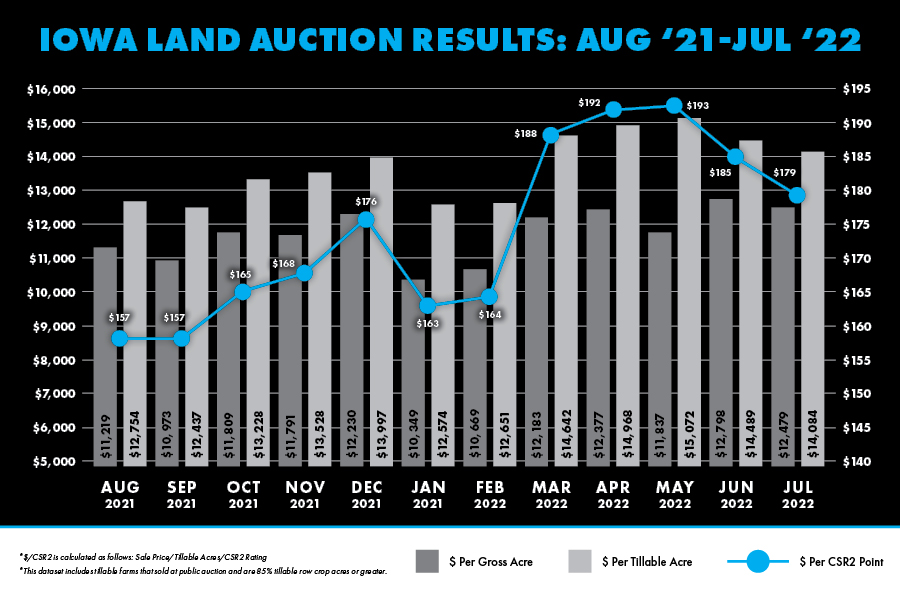 July 2022 Auction Data:
Tracts sold: 82
Acres sold: 9,127
Average $/Acre: $12,479
Average $/Tillable Acre: $14,084
Average $/CSR2: $179
Even through the Fourth of July and county fairs, auctions across the state of Iowa were still active in July 2022. We saw 82 tracts sell at public auction in July, -54% in volume from June. However, those 82 tracts were still more than July 2021's 54 tracts. Prices remained relatively stable: With an average of $179/CSR2, Iowa is -3% from June's $/CSR2 average, and +3% from Q2's average. The average dollar per gross acre was $12,479, and the average dollar per tillable acre was $14,084.
The high dollar per gross acre sale of the month went to an O'Brien County farm, selling two tracts at $25,250 per acre. Tract 2 of this sale also brought us the high dollar per CSR2 sale of the month, bringing in $276 per CSR2. The runner up for $/CSR2 went to a Clayton County farm selling for $17,000 per acre, or $271 per CSR2.
Peoples Company Auctions:
Listing #16172 - 234.43 Acres M/L in Warren County, IA
Listing #16109 - 117.06 Acres M/L in Grant County, WI
Listing #16217 - 322.41 Acres M/L in Phelps County, NE
Listing #16225 - 85.75 Acres M/L in Appanoose & Wayne County, IA
Listing #16236 - 241.8 Acres M/L in Kossuth County, IA
Listing #16240 - 461.87 Acres M/L in Monroe County, IL
Listing #16256 - 207.5 Acres M/L in Decatur County, IA
Click here to view the Iowa Land Values Update for 2022 Quarter 2.
Below are results for land auctions that occurred in July 2022. These are all agricultural real estate auctions containing greater than 35 acres. Dollar per CSR2 was calculated only for those tracts containing greater than 85% tillable with minimal improvement contribution. Data is presented on a monthly and quarterly basis, and can be found on our website: https://peoplescompany.com/