Riverside County, CA
69.45 Acres M/L
70th Ave E of Cleveland St. |
Mecca, CA 92254 |
Listing #16480
$1,950,000
Property Info
Description
Sea Front Ranch is located at the southeastern reach of the Coachella Valley's Mecca Slope region, a sought-after area with a unique climate that allows it to produce some of the earliest crops in California. This farm is supplied with affordable water from Coachella Valley Water District (CVWD) and has excellent infrastructure in place for high value row crop production or development to permanent plantings. It also offers frontage along Highway 111 and is under a Williamson Act contract, which allows for significant property tax savings due to the property's agricultural use.
Details
This high-quality row crop farm is currently farmed by a tenant who is growing peppers. Current rents are $1,100 per acre. The lease expires on June 30, 2024. One district meter supplies affordable CVWD irrigation water via a reservoir, filter station, and a system of mainlines that are efficiently configured for drip irrigation. The farm was a citrus grove for many years prior to being redeveloped for high value vegetable crops and it is surrounded on three sides by permanent plantings that include citrus, date, and vineyard uses.
Sign On Property: Yes
MLS Number: 16480
Parcel Number: 725‐100‐(008, 009)
---
Interactive Map
Use the Interactive Map to explore the property's regional location. Zoom in and out to see the property's surroundings and toggle various mapping layers on and off in the Map Layer Menu.
---
Attachments
---
Photos
Listing Photos
Curtis Buono
PACIFIC WEST MANAGING PARTNER
Curtis@PeoplesCompany.com
Office: 559.306.6337
Mobile: 760.521.2501

Listings
Listing #16602 - 80.00 acres in Riverside County, CA
Listing #16083 - 80.00 acres in Riverside County, CA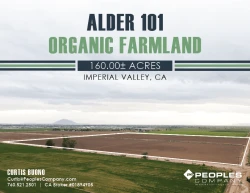 Listing #16739 - 160.00 acres in Imperial County, CA
Listing #16734 - 80.00 acres in Imperial County, CA