Umatilla County, OR
324.56 Acres M/L
Troyer Road |
Milton-Freewater, OR 97862 |
Listing #16421
$1,900,000
Property Info
Description
Located in the diverse Walla Walla Valley, this irrigated farm asset is comprised of 324.5+/- deeded acres near Milton-Freewater, Oregon in Northeastern Oregon State. The area is known to produce a wide variety of fruits, vegetables, and cereal grains due to ample water and rich soils throughout the region.
There are 310.65 +/- tillable acres per the Umatilla County Farm Service Agency. The tillable acres are under a long-term lease to a neighboring farmer under a cash rent agreement. The farm has historically been farmed under an annual crop rotation, using typical farming practices for the area. The primary crop grown on this farm has been alfalfa hay with a small grain rotation.
The primary source for irrigation is via surface water from multiple local creeks with the secondary source being groundwater rights sourced from a well located on the property. Irrigation water is pumped into a ditch which conveys the water to a pumping station located centrally on the property. The water is then pumped via mainlines and handlines to the fields.
Per the Umatilla County Department of Land Use Planning, the property is zoned 'Exclusive Farm Use' with a 160-acre minimum parcel size. There are no structures located on the property or included in the sale.
The property is accessed via paved and gravel, county-maintained roads.
The sale of the property is subject to a Right of First Refusal with the current farm tenant.
For more information and to request the full information package, please contact Adam C Woiblet: 509-520-6117 or Adam@AgTradeGroup.com
Parcel Number: 6N3400-00-01200
General Area: Oregon State
Gross Taxes: $3,759.30
Possession: Upon closing
Terms: To be negotiated
---
Video
Click the "play" button below to watch an aerial drone video of this property.
---
Attachments
---
Photos
Listing Photos
Adam Woiblet
AGRIBUSINESS TRADING GROUP
Adam@AgTradeGroup.com
Office: 509.876.8633
Mobile: 509.520.6117

Listings
Listing #16997 - 435.20 acres in Adams County, WA
Listing #16994 - 32.84 acres in Jackson County, OR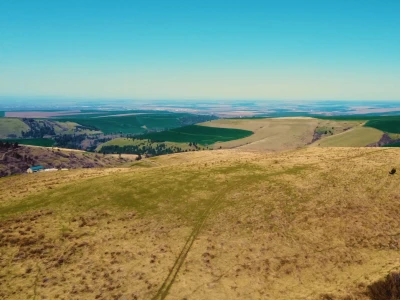 Listing #16174 - 996.61 acres in Walla Walla County, WA
Listing #16965 - 7170.10 acres in Custer County, MT