Boone County, IA
80.00 Acres M/L
320th Street |
Woodward, IA 50276 |
Listing #16299
$1,087,075
Property Info
Description
Boone County, Iowa Farmland - Peoples Company is pleased to present 80 acres m/l in southern Boone County, Iowa situated northwest of Woodward, Iowa and northeast of Bouton, Iowa. This tract consists of a total of 80 acres m/l with 73.82 FSA cropland acres carrying a CSR2 soil rating of 81.9 with the balance in grassed waterways. The primary soil types include Clarion loam, Coland-Spillville complex, and Webster clay loam.
Located in a strong farming community and within a short commute to the northwest corner of the Des Moines Metro, this farmland tract would be a great add-on for an existing farming operation or an investment grade purchase. This accessible farmland offers multiple grain marketing options with a variety of grain elevators, including Heartland Cooperative in Woodward and Minburn, Iowa, and Landus Cooperative in Dawson and Rippey, Iowa. The farmland tract is located approximately two miles east of U.S. Highway 169 on the south side of 320th Street in Section 27 of Peoples Township, Boone County, Iowa.
Legal Description
The East Half of the Northwest Quarter (E 1/2 NW 1/4) of Section Twenty-seven (27), Township Eighty-two (82) North, Range Twenty-seven (27), West of the 5th P.M., Boone County, Iowa. Exact legal description to be taken from Abstract.
Directions
From Woodward, Iowa: Travel north out of town on County Highway R18 for approximately 2 miles and turn left (west) onto 325th Street, round the corner to the north on L Avenue, and turn left (west) onto 320th Street and continue for 1.50 miles. The farm will be on the south side of the road. Look for the Peoples Company signs.
From Bouton, Iowa: Travel west out of town to U.S. Highway 169 and continue north for approximately 2.75 miles, and turn right (east) onto 320th Street. Continue for 2.25 miles and the farm will be on the south side of the road. Look for the Peoples Company signs.
Sign On Property: Yes
MLS Number: 656586
Parcel Number: 088227272100001; 088227272400001
School District: Woodward Granger Community School District
General Area: Northwest of Woodward, Iowa; Northeast of Bouton, Iowa
Gross Taxes: $2,636.00
CSR2: 81.90
Possession: At Closing, Subject to Tenant's Rights
Terms: Cash / Conventional
---
Interactive Map
Use the Interactive Map to explore the property's regional location. Zoom in and out to see the property's surroundings and toggle various mapping layers on and off in the Map Layer Menu.
---
Photos
Listing Photos
Matt Adams
REALTOR®
Matt@PeoplesCompany.com
Office: 515.222.1347
Mobile: 515.423.9235

Listings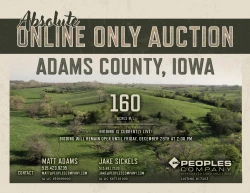 Listing #17263 - 160.00 acres in Adams County, IA
Listing #17244 - 80.00 acres in Franklin County, IA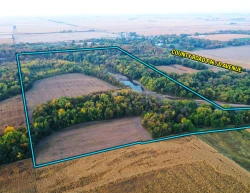 Listing #17241 - 84.81 acres in Dallas County, IA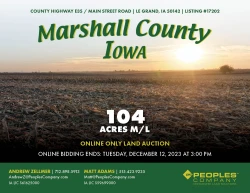 Listing #17202 - 104.00 acres in Marshall County, IA