Dallas County, IA
140.25 Acres M/L
145th Lane & Walk Lane |
Woodward, IA 50276 |
Listing #14922
$981,750
Property Info
Description
Unique recreational land opportunity adjoining the always impressive Des Moines River Valley and located just northwest of Saylorville Lake and the Des Moines, Iowa Metro Area. 140.25 acres m/l for sale with endless possibilities to utilize this property whether you want to chase whitetails and scare up a rafter of turkeys, take your canoe/kayak/boat to "Old Hubby Bridge" access or one of the many nearby river access points, bike along the High Trestle Bike Trail between Woodward and Madrid, or just enjoy view of the large old oak trees and basswoods that dominate the river banks overlooking the River Valley. (See Attached Des Moines River Water Trail Information)
More specifically, this property is located 10 minutes northwest of the Des Moines Metro and just southeast of Woodward, Iowa and north of Granger, Iowa. The farm consists of a 140.25 gross acres m/l with 66.4 FSA tillable acres and a CSR2 of 75.2. Farmland is leased for the 2020 farm year. Access to the northern area of the property is accessed through an improved gravel road and 20 ft. wide ingress/egress easement from 145th Lane. Dallas County Secondary Roads maintains this road up until the gated area entering the Government owned property. The ingress/egress access easement is documented in the Deeds recorded in Book 510, Page 548 and Book 521, Page 41 of Dallas County. Other improvements include electric service through Guthrie County REC and Xenia Rural Water located along the portion of 145th Lane located on the south edge of the property.
This property is also being offered in smaller parcel sizes that would make for a more affordable recreational tracts or smaller acreage/building site. The additional property options include acre amounts of 73.5 Acres (Listing #14923), 66.75 Acres (Listing #14924), 27.77 Acres (Listing #14925), and 39.31 Acres (Listing #14926). See attached illustration showing the different parcel options.
Legal Description
Long legal description on file. Exact legal description to be taken from abstract.
Directions
Directions from the Des Moines Metro: Take the Iowa Highway 141 W exit (Exit 127) toward Urbandale/Grimes, continue for about 16 miles, turn right (east) onto 150th Street for 2.4 miles, turn left (north) onto R30/Bittersweet Road for 0.5 miles, and turn right (east) onto 145th Lane for 0.5 miles and the property is the north side of the road. Look for Peoples Company signs.
From Woodward, Iowa: Travel east out of Woodward on 130th Street for 1.5 miles before merging right (south) onto Bittersweet Road. Continue south on Bittersweet Road for 2 miles until reaching 145th Lane. Turn left (west) on 145th Lane for 0.5 miles and the farm will be on the north side of the road. Look for Peoples Company signs.
Sign On Property: Yes
MLS Number: 602269
Parcel Number: 0415200001; 0415200007; 0415200009; 0415200002; 0415200003; 0415200006; 0415200010; 0415200011
School District: Woodward Granger Community School District
General Area: Northwest of Des Moines Metro; Southeast of Woodward, Iowa
Net Taxes: $1,968.00
CSR2: 75.20
Possession: At Closing, Subject to Farm Tenant's Rights
Terms: Cash/Conventional
---
Interactive Map
Use the Interactive Map to explore the property's regional location. Zoom in and out to see the property's surroundings and toggle various mapping layers on and off in the Map Layer Menu.
---
Photos
Listing Photos
Matt Adams
REALTOR®
Matt@PeoplesCompany.com
Office: 515.222.1347
Mobile: 515.423.9235

Listings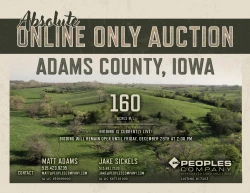 Listing #17263 - 160.00 acres in Adams County, IA
Listing #17244 - 80.00 acres in Franklin County, IA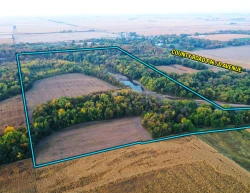 Listing #17241 - 84.81 acres in Dallas County, IA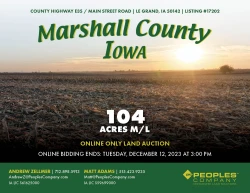 Listing #17202 - 104.00 acres in Marshall County, IA