Butler County, IA
80.00 Acres M/L
310th Street |
Parkersburg, IA 50665 |
Listing #14639
$510,480
Property Info
Description
Offering 80 acres m/l of Butler County, Iowa farmland for sale located just northeast of Parkersburg in section 21 of Albion township. This tillable/CRP combination farm has 8.76 acres currently being farmed and approximately 57.12 acres of CRP that will expire in October of 2019. The acres that will be available for farming in 2020 carry a CSR2 of 72.9 and have primary soils types of Kenyon and Floyd. There are 6.1 acres of CRP expiring in 2022 with a payment of $190.51 per acre and 1.55 acres of waterways in CRP expiring in 2027 with a payment of $300 per acre. This farm has a tremendous view of the Beaver river and excellent hunting opportunities on the the south end of the farm.
*There is approximately 80.06 additional acres m/l also available to the North and Northwest.
https://peoplescompany.com/listings/14637-310th-street-parkersburg-50665
https://peoplescompany.com/listings/14638-310th-street-parkersburg-500665
Legal Description
The East Half (E 1/2) of the Northwest Quarter (NW 1/4) in Section 21 Township 90 North Range 16 West in Butler County, IA. Exact legal to be taken from abstract.
Details
FSA Cropland - 157.22 acres
Corn - 60.6 base acres with a PLC Yield 163
This is whole farm information. When farms are split, this information will be reconstituted by the Butler County FSA Office.
CRP Information
CP42 - 6.1 acres at $190.51 per acre or $1,162 annually. Contract expires in 2022.
CP8A - 1.5 acres at $300 per acre or $465 annually. Contract expires in 2027.
Directions
From Parkersburg go North on Highway 14/6th Street for approximately 1.5 miles then turn East onto 310th Street. Continue on 310th Street for approximately 2 miles and the property lies on the Southeast corner of 310th Street and Oak Avenue.
MLS Number: 589974
Parcel Number: 1521100041
School District: Aplington/Parkersburg
General Area: Parkersburg
Net Taxes: $1,850.00
CSR2: 72.90
Possession: At Closing
Terms: Cash, Conventional
---
Interactive Map
Use the Interactive Map to explore the property's regional location. Zoom in and out to see the property's surroundings and toggle various mapping layers on and off in the Map Layer Menu.
---
Photos
Listing Photos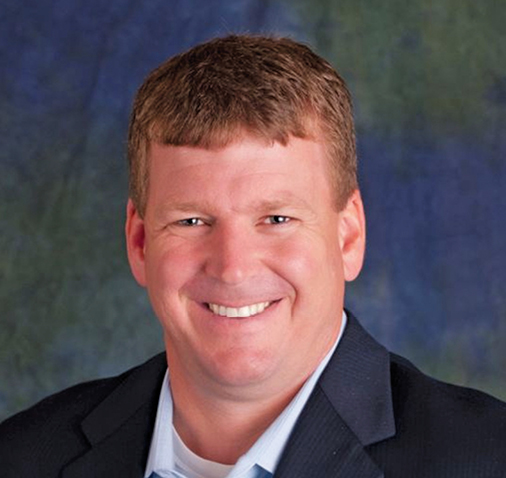 Daran Becker
REALTOR®
Daran@PeoplesCompany.com
Office: 515.222.1347
Mobile: 515.979.3498

Listings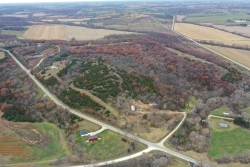 Listing #17231 - 28.64 acres in Warren County, IA
Listing #17147 - 40.00 acres in Warren County, IA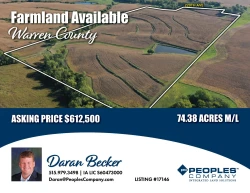 Listing #17146 - 74.38 acres in Warren County, IA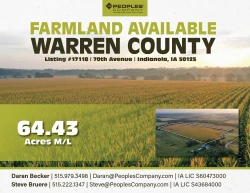 Listing #17118 - 64.43 acres in Warren County, IA